'The Cook' - A sketch by an invalid English lady, 1838
[From the book The King of Oudh, his brother and Attendants]
Using anecdotes and information from the descendants and scions of the Nawabs and Taluqdars; Bawarchis and 'Rakabdars' (specialist cooks) ; both Sangeeta Bhatnagar and R.K.Saxena have endeavoured to provide a glimpse of the fastidious culture and cuisine of Awadh in its true ambience. It is the first book to present timeless classic recipes from the stately kitchens of the Awadh region renowned for the finest food.
RECIPES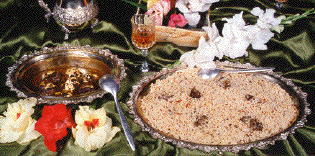 Typical Awadhi Dish : Yakhni Pulao
The colour pictures in the book are not only illustrative but provide in themselves a glimpse of past and present day Awadh.
AVAILABILITY OF THE BOOK
Book can be obtained directly through publisher :
Harper Collins (INDIA) Private Limited,
7/16 Ansari Road, Daryaganj,
NEW DELHI-110 002. INDIA
Tel. 91-11-3278586
http://www.harpercollinsindia.com/cookery.htm
And also through,
http://www.rupaandco.com/cookery.htm
http://www.gobookshopping.com/allbooks/3124.htm
Price Indian Rs. 395/- in India, Pakistan and Sri Lanka
In other countries U.S.$ 19.95
For more recipes, visit following :
http://www.nettlinx.com/travel/indian_states_foodcuisUP.htm
http://www.up-tourism.com/cuisine.htm
http://www.upportal.com/culture/cuisine_non.shtml